Video - Cut & More
Freeware > PRIMA-series
Easy navigate between all applications
Since I'm ready to develop "PRIMA Video - Cut & More" (VCM) it replaces the for a long time used "Freemake Video Converter", which isn't Freeware any longer to me (the developers build in more and more necessities to pay for the program). But both programs have different main functions:
The "Freemake Video Converter" can convert into a lot of different video formats. The main functions of VCM are: Simple cut of digital videos, concat some video clips into one file and to extract an audio stream or images from a video. It's possible to select from a limited number of video formats for the destination file.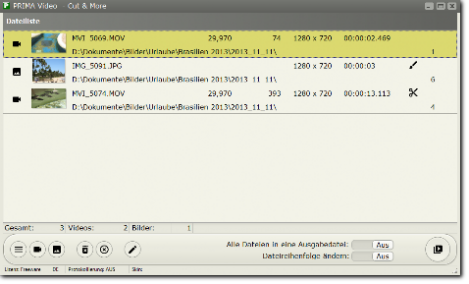 1.2 (01/26/2019) - Minor Release

Zest, material dark

Development:

2017 - 2019

License:

Freeware

Languages:

Greek (only program, not QuickStart document!)

Installation:

NO

Portable usage:

YES

The most important Functions:




"Collect" all wanted videos and images in the file list
simple video cut
simple image editor
convert videos into another video format
convert images into a video format
Concat some video clips (and/or images) into one video file
extract an audio stream from a video file


extract images from a video file

The complete program history you can find here.