CoDoToP
Freeware > Miscellaneous
Easy navigate between all applications
CoDoTop -

Co

nvert

Do

cuments

To

P

DF
You will want to tell me that any better word processor can do this. Yes, you are right. But only the document currently open can be converted.
Most of my programmes will be delivered in at least 42 languages from the end of 2020. That means at least 42 QuickStart documents and again the same number of History documents (so a total of at least 84 documents) to convert: Open document 1, click on "Create PDF", select location, click on "OK", wait until conversion is finished, close document 1. Open document 2, ... and so on. If I estimate only 20 seconds per document, that's 28 minutes of highly concentrated work - because there mustn't be a mistake.
CoDoTop does this for me in less than 2 minutes - depending on the performance of the PC and the size of the documents. I can use the time gained in this way for other purposes.
The use of CoDoTop should already be worthwhile from 5 - 10 documents to be converted. Convinced? Then download the programme.
The freeware can be used privately and commercially free of charge without any restrictions. You can choose from four word processors to perform the conversion (making this one of the first concrete applications to use one of my
SIGAMOS DLLs
): Libre Office Writer, Microsoft Office Word, OpenOffice Writer, WPS / Kingsoft Office Write*. Ability Office and SoftMaker Office also offer saving of word processing documents in PDF format, but unfortunately not within the scope of the COM functionality that SIGAMOS uses.
* - WPS Office can only be used with the Business and Premium versions, as the Free version does not support COM functionality.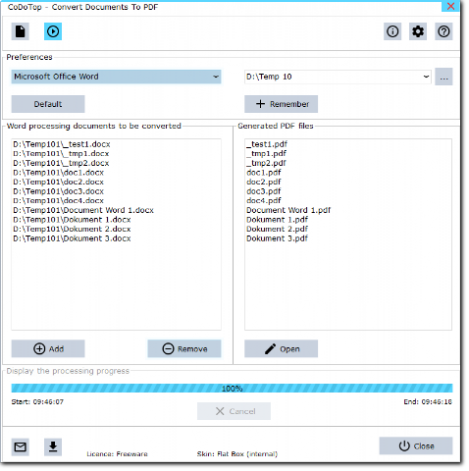 1.0 (12/23/2020) - I

nitial Release




2020

Licence:

Freeware

Languages:

QuickStart and language file in the following languages:




Afrikaans, Albanian, Bosnian, Bulgarian, Catalan, Chinese, Croatian, Czech, Danish, Dutch, English, Estonian, Finnish, French, German, Greek, Hungarian, Irish, Icelandic, Italian, Japanese, Korean, Latvian, Lithuanian, Luxembourgish, Maori, Maltese, Macedonian, Dutch, Norwegian, Polish, Portuguese, Portuguese (Brazil), Romanian, Russian, Scottish Gaelic, Swedish, Serbian, Slovak, Slovenian, Spanish, Turkish, Czech, Ukrainian, Hungarian, Vietnamese, Zulu.

Installation:

NO

Portable use:

YES

The most important functions:



-
-
-
-

Convert word processing documents to PDF format (batch processing)

Support of four word processors

Possible file formats: docx, doc, odt, wps, rtf

Display of word processing documents and PDF files directly from the programme