ImageInfo
Freeware > Miscellaneous
When I developed PRIMA VCM I used sometimes the MediaInfo.dll. Because I often wanted to get more information about an image (which I not get using the "Image Racer" or "Little Image Viewer") I got the idea to this application. It was developed alongside to PRIMA VCM. ImageInfo display a lot of information to the loaded image.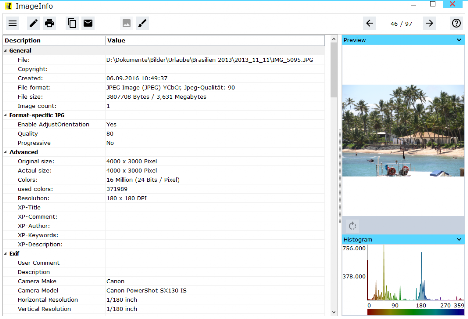 1.1 (06/21/2018) - Minor Release

Development:

2018

Licence:

Freeware

Languages:

English, German

Installation:
NO
Portable usage:
YES

The most important Functions:

-
-
-
-
-
-
-
-

-

Image information: General, Advanced, Exif, XPM, Dicom, XPM. Not wanted information can be hide.
Preview with zoom.
Histogramm (different mode).
Print image information.
Send image as mail attachment.
You can assign ImageInfo to all supported image formats. Than use a right mouse click onto such an image and you can use ImageInfo from the system's context menu.
You can open images from the program or drag it onto ImageInfo.
Navigation through all images of a folder.
Navigation through all images of a multipage image file.



With the last release 1.1


New:



-
With the new release of the used graphic component you get the following changes:


- faster loading of Jpg




- faster loading of PNG






To this small application there is no eBook available. If you want anyway to thank for it then buy any of my eBooks. An overwiew you will find under

www.jw-ebooks.de/en

. Thank you.
Back to content