Knowledge & Information
Freeware > PRIMA-series
Easy navigate between all applications
A program for central management of knowledge and information.

We are living in the information age and will be overflooded with information each day. The most of it you should forget very fast. But sometimes there is an information which we want to keep in mind. But how? A memo on the cellular phone, a note on a sheet of paper, a downloaded file or a screenshot? All this solutions have the same disadvantage:
Where and how can I retrieve the collected information? "PRIMA KI" gives you the possibility to store all information in one application. You can categorize it, you can add till three keywords for one record and so you can find it very easy. If you will not found it using the fast search in the sorted column than use the easy to handle full text search. Searches which you will use again and again you can save.
To a single record you can add a random number of digital documents (word processing, pdf, image, video and so on).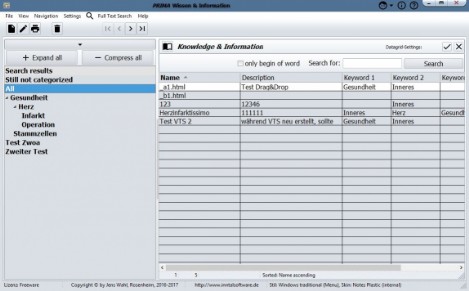 2.3 (05/11/2019)

- Minor Update

Notes Plastic, graphite

Development:

2016 - 2019

License:

Freeware

Languages:

English, French, German: QuickStart-Document and Language file




Afrikaans, Albanian, Bosnian, Bulgarian, Chinese, Corsican, Croatian, Czech, Danish, Dutch, Estonian, Finnish, Gaelic, Greek, Icelandic, Italian, Hungarian, Japanese, Korean, Latvian, Lithuanian, Luxembourgish, Macedonian, Norwegian, Polish, Portuguese, Romanian, Russian, Scottish-Gaelic, Serbian, Slovak, Slovenian, Swedish, Spanish, Turkish, Ukrainian, Vietnamese, Zulu: only Language file

Installation:
NO
Portable usage:
YES

The most important functions:




Management of information
Categorize your information
Add keywords (search words)
Category management
Keyword management
Filter functions
Full Text Search
Print functions


No installation file, you can use it portable

The complete program history you can find here.