Consumption Recording
Freeware > PRIMA-series
Easy navigate between all applications
Especially in times of ever-increasing prices, many people want to control their costs for consumer goods such as water, heating, electricity and others. This programme offers you the possibility to record consumption values on your PC at regular and irregular intervals, to calculate the costs and to display statistics. For recording with a mobile device (smartphone, tablet PC and similar), there is additional software (CRmobile) and an import interface. The additional software is a website and should therefore run on almost all operating systems. However, JavaScript must be activated on the mobile device.
This programme has been on the wish list for a long time and has now been realised.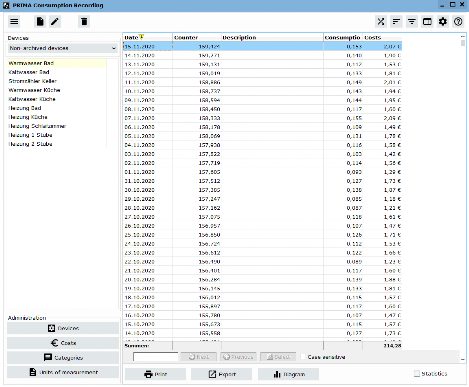 1.1 (08/07/2021) -

Minor Update

Fluent Night,

Fluent White

Development:

2020 - 2021

License:

Freeware

Languages:

QuickStart and language file:

Afrikaans, Albanian, Bosnian, Bulgarian, Catalan, Chinese, Croatian, Danish, Dutch, English, Estonian, Filipino, Finnish, German,

French, German, Greek, Hindi, Icelandic, Irish, Italian, Japanese, Catalan, Korean, Corsican, Croatian, Latvian, Lithuanian, Luxembourgish, Maltese, Maori, Macedonian, Nepalese, Dutch,

Norwegian, Polish, Portuguese, Portuguese (Brazil), Romanian, Russian, Scottish Gaelic, Samoan, Swedish, Serbian, Slovak, Slovenian, Somali, Spanish, Thai, Turkish, Czech, Ukrainian, Hungarian, Vietnamese, Belarusian, Zulu.

Installation:

NO
YES

The most important functions:




Management of master data: Units of measurement, categories, costs, meter readers (consumption meters).

Manual recording of consumption data.

Support of meter reading using mobile devices (smartphone, tablet PC) including data import.

Sorting, search, column filter, table filter.

Print output

Short statistics

Export to the following formats: HTML, CSV, XLS, PDF.

Graphical evaluations (diagram) with output option in a PDF file.

Bonus functions only for purchasers of the programme eBook:

1. change of the device order (for example, into the order in which readings are taken).

2. manual series recording (several consumption values for the same appliance).

3. device change (for example, replacement of the water meter).

4. period comparison (compare up to three freely definable periods with each other) with the option of output to a PDF file.

The complete program history you can find

here

.