CSE
Freeware > Miscellaneous
Easy navigate between all applications
Completer for SoftMaker-ePubs
This small program can help in special cases: I create ePub files with SoftMaker Office. For almost all
Publishers as well as the testing with ePubChecker from pagina are all OK.
But at bod.de this ePub file was rejected as not valid (other publishers are possible, but are not known to me at the moment). After a comparison with an ePub file created by calibre, I was able to find out the difference: An entry in the file content.opf was missing.
Since I have problems with the image quality of calibre ePub files, among other things, I would like to use SoftMaker Office for the generation. After a contact with the SoftMaker support I was only told what might be missing - unfortunately the offer to integrate this into a next release was missing. That's why I created this program, with which you can edit the ePub file in less than half a minute. Then bod.de accepts this ePub file.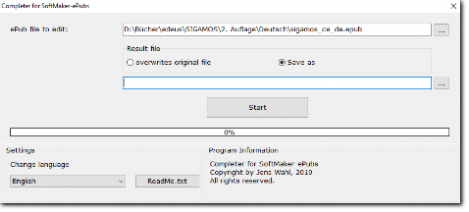 1.0 (12/21/2019) - Initial Release




Development:

2019

License:

Freeware

Languages:

German, English, French, Italian, Dutch, Polish, Portuguese, Russian, Swedish and Spanish - ReadMe.txt and Language File

Installation:

NO

Portable use:

YES

The most important functions:




-

Set the missing value "content" in content.opf