Pure Image Display
Freeware > PRIMA-series
I have already published two image viewer applications: "PRIMA Little Image Viewer" and "PRIMA Image Racer". Why a third one? With each release of this both image viewers some functions were added. At program start more and more settings must be read. This isn't good for the performance of a program. So I decided to develop a pure image viewer with the only most necessary functions - and this will stay so. It's enough to have a short look at a photo - and more it shall not do!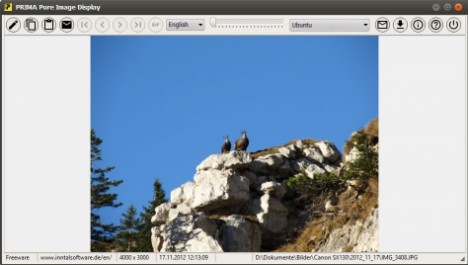 2.2 (08/25/2018) - Minor Update

Development:

2017-2018

License:

Freeware

English, German

, Greek /

Ελληνική (Greek only language file!)

Installation:
NO
Portable usage:
YES

The most important functions:






Open image




Drag an image onto the program window


Start the program from the console with a parameter (the path to the image you want to display)
Fit image to window
Display image in it's original size
Change zoom
Rotate image 90 degrees to the right
Attach the displayed image to a new e-mail
Show each single image of a multipage file (*.tiff, *.gif, *.dcx)
Play animated Gif-files
Picture book mode


The complete program history you can find

here

.

With the newest Release 2.2:





With the new release 8.0.1 of the used graphic component you get the following changes:


- faster loading of Jpg.




- faster loading of PNG.






To this small application there is no eBook available. If you want anyway to thank for it then buy any of my eBooks. An overwiew you will find under www.jw-ebooks.de/en. Thank you.
Back to content