Screen Resolution Switcher
Freeware > PRIMA-series
Monitors with high resolutions are good for playing videos or for gaming. Using a word processing, programming or other tool or a program with a small font then you can get problems with reading the menu captions and others. You can use a bigger zoom on word processing but it's no solution for the problem with the menu items. And if some persons use the same PC than it can be bothersome to you if the resolution of the last user is not so like you want it.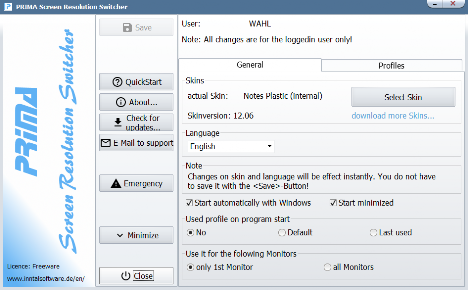 1.1 (11/26/2017) - Minor Update

Development:

2017

License:

Freeware

Languages:

English, German

, Greek /

Ελληνική (Greek only language file!)

Installation:
NO
Portable usage:
YES

The most important

Functions:






OK, there is a way to change the screen's resolution using Windows functions. The SRS makes it easier and faster to you. It gives you the possibility to create a various number of screen resolution profiles. All settings are only for you (user depending). If another person logged in to the PC he/she can use his/her own profiles or use not the SRS. SRS is able to start after your Windows-Login automatically and can - if you wish it - set a screen resolution based on the selected profile. If it's not necessary, SRS lies in the SysTray and waits for you: a click with the right mouse button and you can select one of your saved profiles.

And if there was something going wrong: While SRS is running you can use the system wide hotkey

<Ctrl>+<Alt>+<F2> to set the device-own screen settings.




With the newest Release 1.1:



-
-

Greek language file (by geogeo.gr)

PrimaSRS.ini as Unicode instead of Ansi





-
-

Different functions for creating an Outlook mail or for other mail clients

Program-Info was changed to new Design





-

Problem on checking for updates because of different date formats




To this small application there is no eBook available. If you want anyway to thank for it then buy any of my eBooks. An overwiew you will find under www.jw-ebooks.de/en. Thank you.
Back to content