Rapid Image Viewer
Freeware > PRIMA-series
Easy navigate between all applications
With Release 3.0 (March 2021), only two features remain from the "old" Rapid Image Viewer (RIV):
Rapid single image display.

Plenty of space for displaying images.

Otherwise it got a completely new concept - the motto "pure Windows and graphics" was probably not so popular after all!
From the meanwhile "deceased" Image Racer, the RIV inherited not only some functions, but also the icon background color and the ebook.
Besides displaying images, it can now also play videos and display PDF pages.
The "external devices" section (connected digital cameras, smartphones, tablet PCs) has been expanded so that you can now use almost all functions also for images and videos stored on these devices.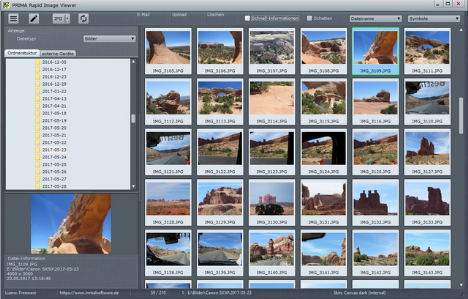 3.4 (09/18/2021) - Minor Release




Development:

2018 - 2021

License:

Freeware

Languages:

QuickStart document and language file in 58 languages:




Afrikaans, Albanian, Arabic, Bosnian, Bulgarian, Catalan, Chinese, Croatian, Czech, Danish, Dutch, English, Estonian, Filipino, Finnish, French, German, Greek, Hawaiian, Hebrew, Hindi, Hungarian, Icelandic, Indonesian, Irish, Italian, Japanese, Korean, Latvian, Lithuanian, Luxembourgish, Maltese, Maori, Macedonian, Mongolian, Nepalese, Dutch, Norwegian, Persian, Polish, Portuguese, Portuguese (Brazil), Romanian, Russian, Scottish Gaelic, Samoan, Swedish, Serbian, Slovak, Slovenian, Somali, Spanish, Thai, Turkish, Czech, Ukrainian, Hungarian, Vietnamese, Belarusian, Zulu

Installation:

NO

Portable usage:

YES

Operating system:

Windows 8 (64 Bit), Windows 10 (64 Bit)

The most important functions:




Accelerated image display (5 modes)

Thumbnail display of all images, videos or PDF files in a folder

Image preview

Open image

Drag image to program window

Display image in original size

Change zoom

Rotate image 90 degrees to the right or left

Flip image horizontally or vertically

Remove red eyes

Display single images of multipage files (*.tiff, *.gif, *.dcx)

Save as (also in another image format)

Copy and paste images

Display images from connected external devices (camera, tablet, smartphone)

Several functions with batch processing

The complete program history you can find here.

Important note:

You can update to Release 3.4 ONLY from Release 3.x. If you are still using a Release 2.2 or smaller, please proceed as follows:

Since an update from Release 2.x or smaller to Release 3.x is not possible, please reinstall Release 3.4 completely. However, please also read the notes on Release 3.0 in the chapter "Installation and Updates" of the QuickStart document carefully BEFORE the installation!